Welcome to Washington Community High School
Washington Community High School is the home of Panther Pride, where high academic expectations and striving for success have long been a tradition.
District 308 Mission, Vision, Core Beliefs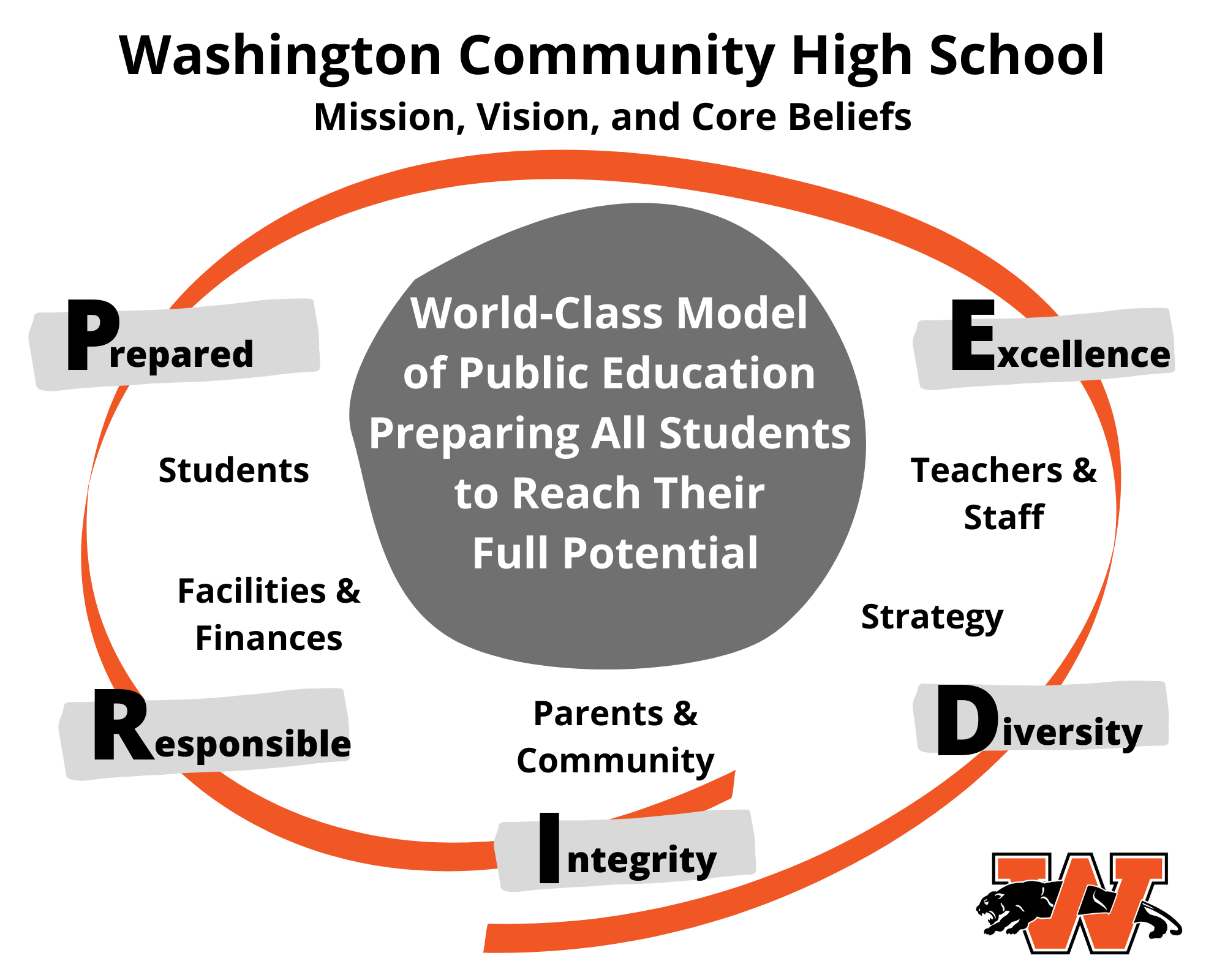 Washington Community High School feels that our Mission, Vision, and Core Beliefs will result in Student P.R.I.D.E.
Washington Community High School commits to producing students who: are well Prepared, are highly Responsible, demonstrate Integrity, encourage Diversity and strive for Excellence.
Mission
Washington Community High School will provide a safe environment in which students will be prepared for success in a global society.
Vision
Washington Community High School will become a world-class model of public education that prepares all students to reach their full potential.

Core Beliefs
WE BELIEVE:
Our Students are
The first priority.

Given every opportunity to discover themselves and what they want to become.

Invested in their own learning.

Life-long learners.

Creative critical thinkers.

Collaborative problem solvers.

Effective communicators.
Our Teachers and Staff will
Teach students to think clearly, logically and independently.

Instruct citizenship and personal responsibility.

Engage in continuous professional development plus mentoring to ensure growth.

Passionately facilitate student's interest and engagement leading to success.
Our Strategy will
Recognize that progress requires consistent updating of district practices.

Supports individual differences and mutual respect.

Encourages the development and maintenance of the physical, mental and social health of students and staff.

Recognizes the needs of our environment and the demands of a global society.

Integrates technological innovation into the learning process.
Our Facilities / Financials plans will provide
Safe environments that are essential for learning.

Sustainable solutions utilized for today's results and tomorrow's world.

Quality education at a reasonable cost to taxpayers.
Our Community
Is a vital part of Washington Community High School.

Shares in the responsibility of the family, school and community.

Partners with the Washington Community High School to prepare graduates to meet future challenges locally, nationally, and internationally.